byjayr is the alias of Jeena Ra, a producer and visual artist who makes music that ranges from cinematic, progressive house to evocative breaks and gritty industrial techno, with influences as diverse as Sevdaliza to grunge-era Nirvana. After Djing since 2016, 'Siren' is her debut EP, released on one of Canada's leading electronic labels Aquarius Records: a rich and diverse six-track collection that ranges from sweeping, epic electronica to dark industrial techno.
Main picture: © Maria Kanevskaya
Born in Canada to Palestinian parents and raised around the globe, byjayr created a name for herself around Montreal's art scene as a visual artist, displaying her bold art pieces and murals around the city, and that boldness of expression has carried through to her musical productions.

You
WODJ MAG: Hi byjar, how are you?
beyjar: Hello, I'm doing well. Thanks for having me!
Can you introduce yourself to everyone who discovers you?
I'm byjayr, I'm a musician and a multimedia artist.
What is your style?
I'd like to say my style is a mix of experimental, cinematic and deep house.
Your artist name, byjayr, appeals to us, can you give us some details about its origin?
Growing up as a kid I would create something then sign it on the bottom with – by JR just like most kids would with their name. Eventually, I began to rewrite it as byjayr and used it for my branding. It's been stuck ever since.
How do we pronounce it?
byjayr – (bye-jay-ar)
You're also a VJ. Does this band play in your musical creation process and vice versa?
Yes, absolutely. I initially wanted to become a full-time VJ and set designer, but now I have music to create a whole experience all together.
Are these two complementary specialties ?
I'd like to think so, my art side and music side are very different styles, I like to see them as my two alter egos. So combining the two to create something completely different has been interesting.
Do you have a vivid memory of your first steps in music?
When I was 8 years old my sister taught me how to play Come As You Are by Nirvana on guitar, that would probably be my first vivid memory. However, my dad is very into music, plays most instruments by ear, especially the Oud. Growing up he's influenced me a lot especially when it came to the classics like Frank and Nancy Sinatra, The Beatles, etc. He gifted me my first spanish guitar and I think that's where it might've really begun.
What is your background as a musician?
I'm a self taught musician. I had a few production classes while I was studying media production but for the most part I never had any specific training when it came to music.
Which track defines you best?
I think I have too many tracks to define different parts of me to list on here.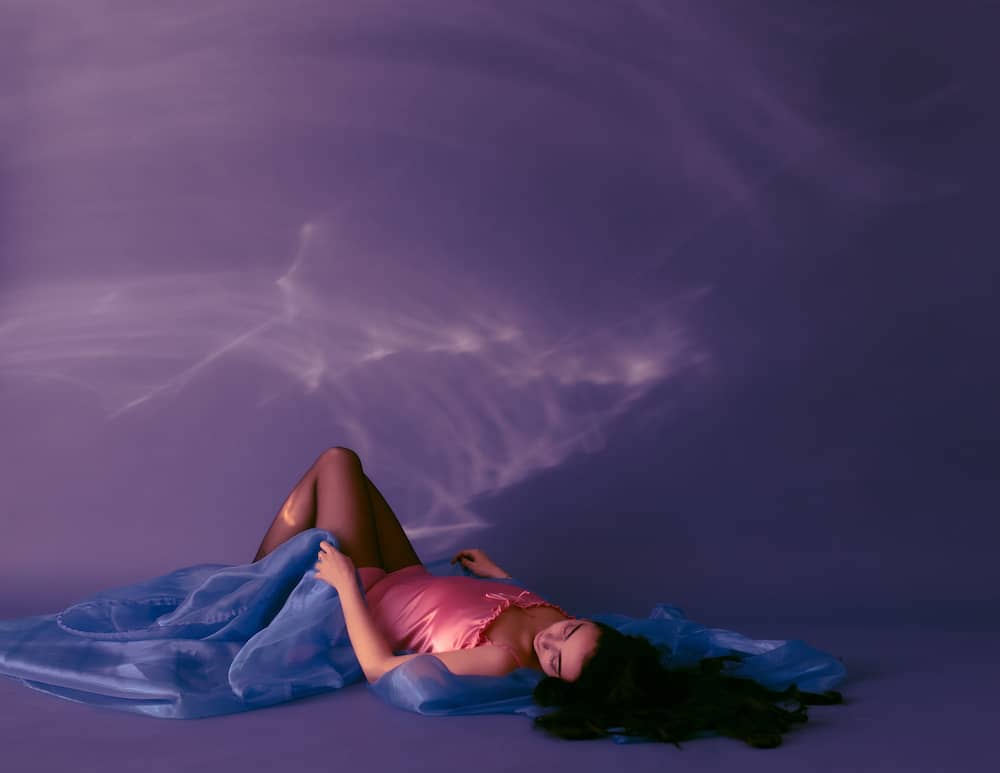 © Maria Kanevskaya
Your Project
Your debut EP, 'Siren', was released on November 20th on the Canadian label AQUARIUS. Can you present us your project ?
'Siren' is a love story, not between two lovers but between one person wanting more for themselves. The story is about a siren named Sahara, and she takes you on an adventure to save herself from her darker side. The EP will consist of 6 tracks taking you through this ethereal journey.
You collaborated with NAZANIN, can you present us this artist?
Nazanin, she is a childhood best friend of mine. She's of Persian descent and I thought that her lovely voice and language would be perfect to recite lyrics/poetry on the EP. It's been really fun working with someone close to you.
Your EP opens on a melodic touch with the first track, 'ANJA' then follows on the second track more rhythmic 'NAHJI' and come back on a quieter track 'SIREN'. The three following 'SAHARA', 'MUHIT' and 'ALCHEMY' make us travel with its slow groove and Arabic influences. This EP is a real journey both on the geographical and spiritual point of view, like a return to the roots. A legacy to your origins. Does it inspire you ?
I love how you phrased "A legacy to your origins." Yes 'Siren' is very close to home. I really wanted to express my roots on this first EP especially being Palestinian, and a female producer its very difficult putting yourself out there. Siren hits very close to home and I wanted to share that with everyone.
Your Place
You are based in Montreal, a mecca of the electronic music scene across the Atlantic, what does this city bring to you?
The city is very beautiful and cozy, and the electronic scene is spectacular. I'm really sad that we're on lockdown because there's so much life when it comes to our music scene, and to have that be taken away has made the city very quiet.
How is the electro scene in Canada, at the time of COVID?
There isn't a scene at the moment, unfortunately, but many are opting for Virtual streams like Twitch to engage with one another musically. Many friends of mine will have "Zoom Parties."
If you project yourself, with all these constraints and measures taken. It stops major of gigs with public, but it reveals a lot of talent, and also gives artists time to create and innovate… What is your point of view on the future of electronic music?
I do feel that it is a time to wind down and really get creative, people are getting out of their comfort zones to create the most innovative spaces for their music. I feel that there are no more excuses left. Being in a virtual world really doesn't sit well with me and I'll never get used to live streams and shows. I honestly don't know what the future will be like. It doesn't really excite me thinking about it, but one concept I truly love is what Cercle has been doing with their videos.
More About You
What is the place where you would like to play at least once in your life?
I think maybe Red Rocks Amphitheatre or Bondinho Pão De Açúcar in Rio De Janeiro, Brazil. Such beautiful locations.
Your top 5 best tracks?
01. MSTRKRFT – Heartbreaker
02. RY X – Waste (RY X Remix)
03. Nirvana – Heart Shaped Box
04. Sevdaliza – Darkest Hour
05. Trikk – Mondole
What is your biggest dream and how do you want to achieve it?
My biggest dream is to live by an ocean and make music and art for the rest of my life.
'Siren' EP Tracklist:

01. byjayr – AJNA (feat. NAZANIN)
02. byjayr – NAHJI (feat. NAZANIN)
03. byjayr – SIREN (feat. NAZANIN)
04. byjayr – SAHARA (feat. NAZANIN)
05. byjayr – MUHIT
06. byjayr – ALCHEMY (feat. NAZANIN)

'Siren' EP by byjayr is out 20 November 2020, on Aquarius Records