CORA is a techno artist who is unable to settle for received truths, a visceral liberalist for whom every system is tight, who exists in perpetual revolt against the human condition and the ordinary. After an incoherent and unclear career in music, from classical to pop-rock, and electronic music, CORA comes back with techno.
CORA is totally new to the techno music scene, but she is moving fast into the underground. She has collected some experiences in Florence between Tenax Club (where she learned the art of DJ-ing), Tropical Animals (with her short-period residency), and several underground gigs and raves between Latvia, Kiev, Germany, Switzerland, and Dubai. Cora's first approach to electronic music production starts with her first release "Insurgent" on Three Hands Records, followed by "Hushed War" on Tenax Recordings. As she say: "At this moment of my life, techno is the powerful form of art I have to express my emotions, my dissents, to get close to freedom and to alienate." Let discover a poetic female producer with a great talent.
Main Picture : © Cora
You
WODJ MAG: Hello, Cora, how are you?
CORA: Hello, everything's good. Hope the same for you.
Would you mind introducing yourself for those who discover you?
I'm CORA an emerging techno DJ from Italy living around.
You are an Italian DJ and producer living in Dubai? How's it going?
Yeah, I live between Dubai and around Europe in cities like Milan, Paris and London. In the past two years I spent a lot of time in Dubai dividing my life between design, e-commerce entrepreneurship and music. Being an emerging Techno DJ in the middle of a global apocalyptic scenario is….strange. I mean, You are a musician who is starting playing music around the globe but one day you wake up and the music industry is (temporary) ended. Crazy times, don't you think ?
Your bio presents you as « woman without a label who likes to create. » Could you tell us about your state of mind ?
In a few words, Society asked me to stay in line, to accept reality we know as the only truth, to renounce freedom and I said no. I'm obsessed with the passage of time, I'm totally aware that I will die soon, so I just want to live life to the fullest, without the imposition of too many limits. One day I asked myself « What do you fear more ? – the monotony of boredom or the uncertainty of change? » The monotony of ordinary kills people and the cure is the travel, in all its forms.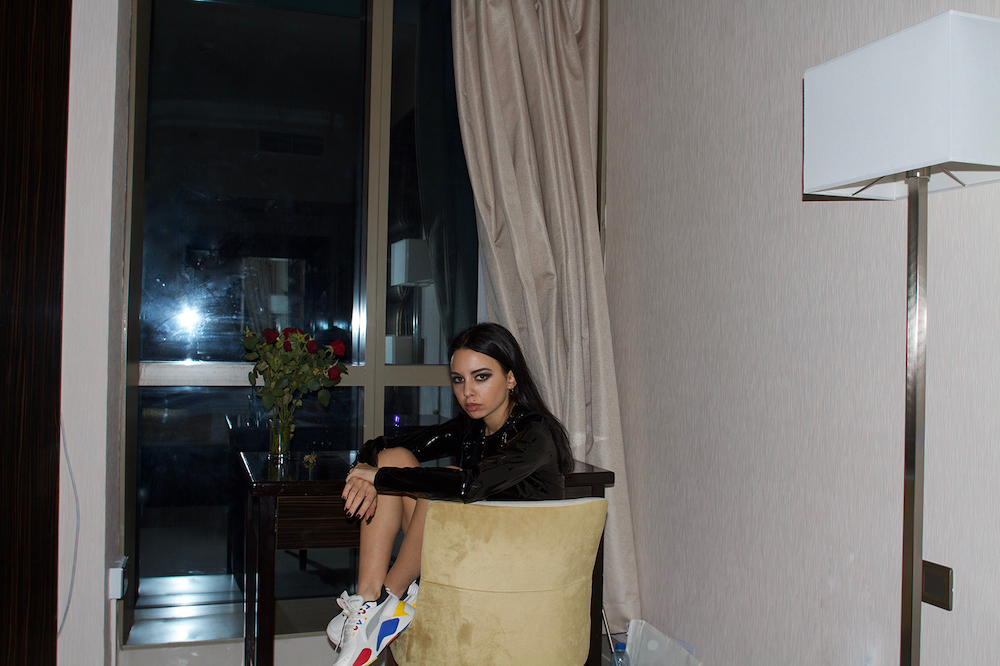 © Cora
What about your teenage years?
I spent 17 years between the countryside and a little town in Tuscany with a few friends and some pop/rock bands. When I wasn't at the high school, I used to spend a lot of time completely alone so I dedicated myself to piano, pop music and writing. I used to travel with my fantasy through creativity but suddenly I developed the desire to experience things on my skin. I started feeling prisoner, so I completely changed my life. I started traveling and living abroad in places like Las Vegas, Miami, Fort Lauderdale, Bahamas, Caribbean, London and Houston where I lived for a while.
How did you get into Techno music?
Around four years ago I was facing some strange months of personal transition. I was just back from Texas and I started working as a designer and product development manager in the fashion industry but my state of mind wasn't good at the time. I was searching for something I didn't even know. Nothing seemed to satisfy me at all, and I was feeling depersonalized. I didn't know what I wanted to do, but I knew what I didn't want.
Then, some meetings and situations between Milan, London, Berlin and Latvia made me get close to music again. I started participate to thousands of events, totally alone and I fallen in love with festivals and clubs. I suddenly realized that the underground techno scene was my environment, a reality where I feel comfortable.
You are very active on social networks like Instagram, what are you doing there?
I'm here to connect with people and the world but to be totally honest, we have a love-hate relationship.
Your life seems chill and hectic at the same time, especially with the adoption of a white tiger and other felines recently. What do they mean to you?
In some way, I feel complicity with big cats. Tigers, lions and cheetahs give me the ultimate inner peace. My love for those animals is unconditional, in fact I decided to found an independent no-profit foundation to concretely fight against big cats extinction.
RAWWRRR Foundation is now active on Instagram at @rawwrrrfdn.
The intention is to create a community of « big cats supporters » and start collecting donations in the next future. I want to repopulate the planet with tigers by creating a very large natural area where they can live and reproduce.
On Instagram you seem comfortable in front of the camera, do you have other activities as Techno maker?
I'm a product designer and e-commerce entrepreneur too. I've launched several brands through e-commerce, something you see around is mine but you don't know. I'll launch some brands in broad daylight too.
Life in Dubaï
Is Techno music part of the nightlife in Abu Dhabi?
Abu Dhabi is not the right place if you are a Techno lover, you should definitely stay in Dubai. The Techno scene in Dubai is growing fast, not only the mainstream but the underground too thanks to the internationalization of the city and thanks to some movements like the Rave Movement who is inviting so many European Techno Artists to play in town.
Do you have any spots to recommend?
You can't miss « The Hatch Club », the underground music venue started in 2018, found deep inside a ship, in the engine room seven meters underwater.
And, you should keep an eye around to catch all the raves that take place in the middle of the desert.
You used to live in Milan and London, do you miss these cities and why?
I live in Milan several times during the year, it's one of my bases and come back to live in London for a while is in my plans. I can't compare Milan and London to Dubai, these places are very different. Each city has something beautiful I'm in love with.
Do these places inspire you in your music?
For my music I take inspiration from my feelings and sensations.
Your Projects
You produced 'Insurgent' EP in 2019. It is a mini melodic Techno music album. Could you present it to us?
Insurgent represents my first approach to techno music. I wasn't satisfied with the result but I decided to publish it anyway with a different pseudonym just to express my desire to enter the industry. I wanted to say « Hey! Music industry, I'm here and I want to play music around ».
Are you working on other projects actually?
Yes. During the last few months I have lost myself experimenting, trying to create something I'm really excited about ranging from techno to ethereal melodic techno.
I hope to be ready to share something with you soon.
Your top 5 Techno tracks that you like the most?
I can't answer to this question. There's too much beauty in techno to select 5 top songs.
What is your biggest dream and how do you plan to achieve it?
I have got some more secretive ambitious goals, purposes activate your brain and challenges are intriguing, but overall I choose to live at the moment because the present is the only thing we really have. Keep chasing fantasy over reality…