Emma Louise Sainsbury aka Eluize is a DJ, producer and label boss of Night Tide between Adelaide and Berlin. Moonlighter at heart, Eluize spends her time writing, creating and curating house, techno, and acid to soundtrack the hours. She announces her new album, Confide, comes out now 8th March 2019. It was written as an exploration of feelings of distance and connection, of finding and losing, of homesickness, love and intimate moments on the dance floor. We had a great interview with Eluize to discover her as an artist, and listen to some of releases her debut LP, out on Craigie Knowes.
Main picture: © Tristan Jong
You
WODJ MAG: Eluize, could you present yourself for people you don't know yet?
ELUIZE: I'm an electronic musician original from Adelaide in South Australia. It's a beautiful city with long sandy beaches and gorgeous sunshine. I curate and create house, techno, acid and italo soundtracks for raves, dance floors and other spaces. Outside of music and night life, I love swimming, coffee and nature.
What is your background? Can you describe how your passion for music was born?
I've had a passion for music and sound since as early as I can remember, my parents put value in the arts and creativity and started me in music lessons when I was 5 or so and it began there. I studied many instruments and classical and jazz through school then moved into electronics some years later.
What does « Music for moonlighting » stand for?
I love the concept of Moonlighting, the idea of the work or things people do in secret at night. As a producer and dj I feel like I'm soundtracking these intimate moments that transpire after hours.
What's your style?
It varies with my mood but generally music and things that evoke feelings. Melodic, textural, colourful and the unexpected. I like contradictory things, like darker or more melancholic sounds that still inspire you to dance.
You as producer
Your music is full of emotion. We feel that you have a real mastery for instruments and harmonies. Tell us about your music background.
I studied some classical through school and performed in an orchestra. I love the way composition, different keys and chord structures can play on your mood so I try to keep learning little bits as I go and incorporating them into my music.
Where does the inspiration for your musical creations come from?
Everyday life, past experiences and people's stories can trigger something I want to work with. I make a lot of field recordings and sometimes start with that. I recorded the sound of the magpies in my mum's garden as the sun came up, a sound I've never heard anywhere else, It makes me feel homesick and happy all at once and I used this as the foundation of "Distance" on my forthcoming Confide LP.
What are you trying to communicate between you and the listener?
I hope listeners will interpret things in their own way, maybe feel the bliss or reflectiveness I was experiencing when I wrote the track. But it's not necessarily so important for it to be exactly the same, I just want to people to feel connected to and through the music.
You as Group
You are 50% of Ca$Hminus… tell us about your duo with Gratts.
Gratts and I started this project for fun, to have an outlet for more experimental productions, we explore Belgian New Beat, Acid, Italo, early rave and anything else our heart desires. We started a label by the same name last year, and have a great new EP being pressed right now. It's an awesome opportunity to invite friends to collaborate on something unusual, this new record includes guest vocals from our friend from Chengdu, graphics from an outstanding rising Chinese visual artist, guest instrumentation and melodies from Belgian musician Reiver Bot and a remix from French producer Cornelius Doctor.
Your Satisfaction / No satisfaction EP, out on Bordello A Parigi, was your first release… Why did you choose this label?
Bordello A Parigi is a fantastic label run out of Amsterdam who put out all sorts of weird and wonderful music we enjoy listening to and playing. They signed a club extension of Moneymax "Your Satisfaction" Gratts made for an A-side and asked for a B, so we actually first came up with the Cashminus concept to make the two originals on this release, playing with the opposite concept of having no money and no satisfaction…
You as boss label
You founded Night Tide in 2016… Could explain about the label.
Night Tide started as a place for me to release my own and others music, have the opportunity to make a record from start to finish and to have full creative control of how the final product would be. The focus is beauty in electronic music and international collaboration. The artwork focuses around analogue photographs.
What artists do you want to sign up on your label?
I look for artists who's music I really enjoy, that has a distinct feel to it while fitting the music brief. I plan to release more music from artists from different locations and backgrounds. So far we've had music by producers from Australia, Germany, Sweden and Denmark and artwork from Belgian and French photographers. Next I hope to work with artists from other countries and continents, I think it's inspiring how music connects people and it's a great opportunity to share ideas.
In Australia
I think about Monika Ross, Bella Sarris, Kate Miller, Svjetlana and You come to Europe to have a DJ carreer… It's really interesting to us to understand how is Australia scene and what are your main reasons to come to Berlin.
First, could you explain the electronic music stage in Australia?
Australia has a vibrant scene, there's plenty of great music coming from Aussie producers. As sounds grow and develop sometimes the Australian's have a different take which is interesting. The physical distance from Europe makes it more difficult to tour artists between the continents, and even with the internet I think this leads to more crews that work together and inspire one another on a local level.
Is music in Sydney different than Adelaide or Canberra?
The music is similar, the parties do vary because of the city sizes. Most artists that visit Australia from abroad will do a show in Sydney but they don't always go to Adelaide, though when they do sometimes you get a unique and often intimate gig. It depends a lot on the promoters doing parties and the spaces available at the time.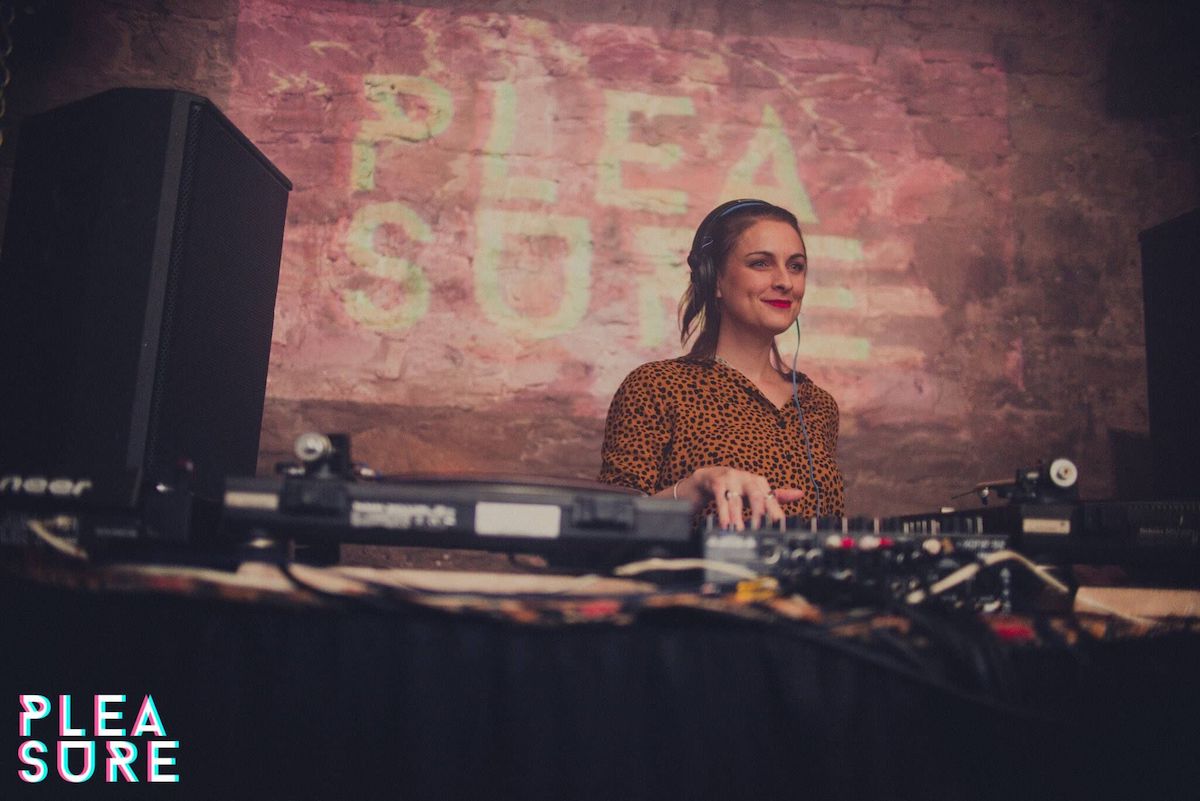 How are australian people at parties? We ask this because when Nina Kraviz came to Australia, the people bashed her because they felt she didn't play techno…
I play a cross-section of different dance music, and what some people love others don't like or understand, but I think this can happen anywhere in the world. All parties are different depending on the space, the organisers and the people. I try to play at and go to gigs where I know a warm, inclusive vibe is encouraged.
What do you look for in european cities compared to Australian cities?
One of the great things about living in Europe is the proximity to other places. I can take a train or a plane for an hour or so from Berlin and find myself in so many other cities and countries. I've had the opportunity to play in Amsterdam, Ghent, Lisbon, Paris, London, Zagreb, Brussels, Edinburgh, Tbilisi, Batumi, Tirana, Dubai, The Hague, all over Germany and so many other wonderful spots since I've b in based here. From Australia it's a lot further.
Seasons are switched in Australia, how is summer festival season in Australia?
Australian summer festivals can be incredibly beautiful experiences, especially in bush destinations. It can get very hot though so it's important they're run well, with proper shade and water misters to help people keep cool and it's vital that people take care of one another and stay hydrated, as at any festival. This season I played at Rainbow Serpent (VIC) and Subsonic (NSW). Both were truly amazing in their own right and showcased a great variety of both local and international artists in gorgeous locations and had a lovely connected, community vibe.
You're different because you spend half the year in your country and the other in Berlin. Tell us why is it interesting for you?
I spend most of my time in Berlin and head back to Australia for about a month or two during the summer each year. I get homesick for my family, the sea and the sun so it's always nice to go back to visit. I enjoy performing there and catching up with all my music friends to see what's been happening first hand. You can do a lot online but having a coffee or sitting in a studio with someone always uncovers different things.
Your Friends
Could you introduce your Female DJs friends?
Berlin is such an amazing city to meet and spend time with like minded people (not only women) from across the electronic music spectrum. My local female besties are fellow Australian expats Claire Morgan (slick techno and electro DJ and film composer) and Kristin Velvet (house music powerhouse). There's so many excellent women that have crossed my path since starting out it would be impossible to introduce them all, but here are a few I'd recommend looking up…. La Fleur, Sedef Adasi (hi Habibi!), Kate Miller, Johanna Knutsson, La Fraicheur, Daniela La Luz, Ena Lind, Avalon Emerson, Mor Elian, HAAi, Shanti Celeste, Natalie Luengo, Sabine Hoffmann, Trinity, Lydia Eisenblätter, Hang and Perel.
2019
What are you main projects for 2019?
I'm extremely happy my album Confide will finally be out mid march on Craigie Knowes. I'm pumped to be working with some talented video artists who will make clips for a few of the tracks on the record. Apart from that, I'm spending the start of this year finalising some pieces to put out later in 2019, playing some exciting gigs and revisiting the live show I've been working on.
Have you some exclusivities to share with us in this beginning of 2019?
We are now pressing the new Cashminus EP that will be released in the spring. I've got a track called "Ingénue" on the forthcoming Of Paradise comp and something on a brand new UK based label I can't announce yet.
Well of course the album Confide which is out on Monday. My track "Amethystine" made it onto a new label compilation for Future Massive, my track "Ingénue" is forthcoming on Of Paradise and finally we've just released the new Cashminus record you can listen to above.
What are your biggest dreams, for what do you wake up every morning?
To make and appreciate beautiful things. To be kind.
Thank you Eluize.
Eluize's debut LP on Craigie Knowes is a beautiful 7 track journey through voice and sound. A unique blend of Eluize's voice, drum machines and synthesis have built an album that flows between dancefloor hypnotics and melodies that throw you out to drift in a lonely cosmic ocean.
'Confide' EP is out on 5th June 2020, you can order here.
Tracklist:
01. « Home »
02. « Say »
03. « Distant »
04. « Disconnect »
05. « Elapse »
06. « Still »
07. « Oceanic »
Listen to 5 tracks of her first debut LP Confide, available on Craigie Knowes.




Website
Discogs
Facebook
Soundcloud
Instagram
Twitter
YouTube
Resident Advisor
Night Tide
Website
Discogs
Facebook
Soundcloud
Twitter
YouTube
Resident Advisor
Ca$hminus
Website
Discogs
Facebook
Soundcloud
Instagram
Resident Advisor