Lady Maru started producing music in 1994 with an electric guitar, some toy percussions and a tascam 4-track recorder. At that time she was playing guitar and some rudes electronic devices in no wave and post punk bands. She started her professional career as a dj in 2003 in some underground parties and clubs in Rome. Maru offers a varied sound, ranging from hard techno, to deep techno and underground tunes , providing energetic and dynamic dj sets. Loves the queer scene in Italy and abroad , collectives such as Gegen, Witches are back and La Roboterie.
She was also resident at Amigdala party, a techno night that works and has worked in the best roman clubs and international techno djs ,and she is resident at U-Kabarett, (a roman techno night mixed with live performances) and she has recently joined the Gegen resident crew, one of the best queer parties in Berlin. At the moment she works as a DJ in the weekends and produces techno tracks and music for various projects (dance, theater, downtempo electronics, synth punk band). She collaborates very often with La Roboterie, a queer italian collective. Her plans are to set up an acid techno live set and starts her own label for Acid Tunes.
Main picture : © giuseppe zizza
You
WODJ MAG: Hello Lady Maru, how are you?
Lady Maru: i m still alive hope u too!
Could you introduce yourself to everyone who's discovering you?
i m basically an underground roman musician coming from the post punk scene. i turned into a more electronic and techno sound in the first years of 2000 playing in squats, queer raves and small clubs.
What's your style?
my style has always varied a bit, always following elements of very raw techno, ebm, no wave.. i recently love acid industrial sound between 140 and 145, that sounds very tough but stays groovey.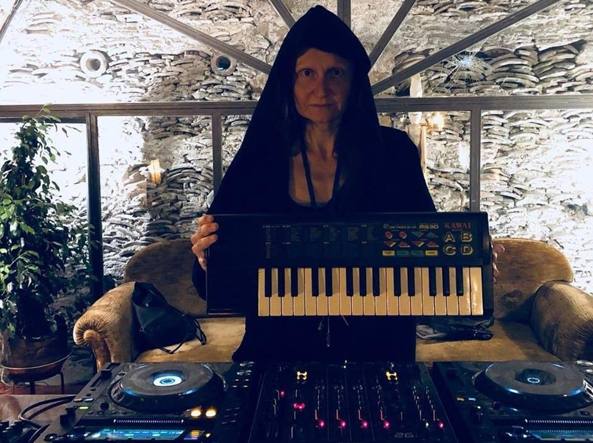 Lady Maru @ Corriere Web Roma – © giorgia lee
Did you remember where your asrtist name comes from?
if i remember well the name Lady Maru was an idea of my band fellow, the drummer and founder of a crazy no wave band called Dada swing, it was always at the beginning of the 2000.
When did you dive into techno music? Do you have a memorable memory to share with us?
before playing techno i went to rave in squats in the middle of the 90'ies so i m definetely influenced by hardtekno and oldschool acid on the one hand, but on the other hand, by going out especially in clubs in Berlin and festivals like Dissonanze here in Rome, i have discovered a « clubbier » sound as well: artists like Thomas Brinkmann, T.P Heckmann or the old Boxer sport sound (a Kompakt sublabel i used to play a lot) helped me find a new concept of techno at the early beginning of 2000…so i think that this discovers and the reedition of many sounds of the 80ies made me think of a possible fusion between illegal Raves and « club » music.
The song you secretly listen to over and over again?
there are tones of songs i get obsessed with every day or week .. over and over again.. mostly it's pop and soul music or weird synth pop music but not only: sometimes i get obsessed with an electronic track, too.
yesterday it was again a track out of « Judgment Night » soundtrack dinosaur jr and the funny Homosapiens, a weird hip hop song combined with indie guitar, tomorrow it can be a song of « the Ann steel album », a 80ies italo american duo, or a superpowerful acidtechno track. i m able to listen to whatever i love in loop for hours and hours.
Your city
How is the underground scene in Rome?
the underground scene in rome is really hard, the government doesn't recognize a dj or a musician as a normal job, there is no money for this kind of culture, and the people working in this business are not always reliable with money, so it has been very hard to make a living out of that. but back and forth we have really great turn outs:in small underground spaces as well as in bigger clubs: last saturday was so great, a real perfect party after 6 months… the PA and the crowd were just perfect.
What do you think about the position of women in electronic music in Italy?
technowomen in italy has always been a hard topic, i had troubles at the beginning of this year just by walking down the street, verbal random aggressions by an old school dj just for the hell of it, just for existing and working… then i had more and more troubles in getting the same treatment of guys: usually they get more gigs and usually better paid and under better conditions. this thing really drives me crazy, i really hope it will slowly change. at the moment is a sort of jungle: the will of playing techno in rome as a woman and as the main life purpose is really hard, unless of course, you are sponsored by somebody powerful or u have been living abroad to get known a bit before coming back here..
Could you present some Italian producers you appreciate?
i like a lot of producers, and i discover new ones every day.. lastly i discovered Sboyz is a 3 peace of younger boys close to Napoli, Joseph livio, Acx001, Alessio Molinari : they make a really creative analog industrial acid sound very groovey banging, one track of theirs will be out for the second vinyl of my label hopefully very soon. then there is some roman ladies, too, some are part of my Witches are back collective, all professional hard workers since long times as well such as Suit Kei, De-monique… thenthere is ome names i will put out on my label soon such as the Mighty Raptus, part of hard raptus project, 100 pro cent roman acid scene..
You as Producer
You are a proactive producer… Could you present us with some of your favorite tracks?
the tracks i m proud of will be out later on in the year. i have been working for them all quarantine time: trying to put a bit of voice in them and trying to sound rougher and more industrial.. but of course i m very happy of the release for 'Hydraulix' records with Ayako Mori and i m also happy that the track made for my label, 'Acid Carpet', worked pretty well.
You released a new EP with Ayako Mori whaich called 'Acid System', could you present it to us?
'Acid System' was an Ep made like one and a half year ago, it came out during quarantine, beginning of April.. in my opinion it's very cool to collaborate between artists : coming from a « playing with bands background » i see the big value of sharing creativeness and knowledge in sound and songwriting, so i hope well be able to do some more together with Ayako and other talented technoladies.
Your top 5 of your favourite tracks:
telling you about my favoruite tracks of all times it s a bit hard for me, for i always like to use less known producers , and i always try to use different sounds…but an example for different things i like that are sort of almost « commercial » could be:
Thomas P Heckmann – Acid to the Future
Dinky – Acid in my fridge (tobi neumann remix)
Aphrohead – ride it out the advent remix
Sboyz Disastro Mentale
Duoteque – Logo
What is your biggest dream and how do you plan to achieve it?
my biggest dream is just to be able to make a living out of my music without having to struggle and fight so much, since i m really getting too old for struggling.. i d like to restart some post punk live projects as well plus, i d like to learn how to use a program for video editing, in order to be able to do some sound design, too.. then i d like to make it better with my acid label, so i m moving back to berlin for the end of the year. my plan is not to leave Rome totally though, but just to get into a more international environment.. we'll see what will happen. it's hard times for everybody!
Facebook
Instagram
SoundCloud
Mixcloud
resident Advisor
Acid Boiler Coalition Official Website
Abc – acid boiler coalition – Facebook