Mikhaela Faye is a 20 something years old singer-songwriter, from Cape Town, South Africa. Her music is honest and disarmingly direct at times; exploring the delights and vulnerabilities of being in love whilst searching for an autonomous sense of self in a social-media-driven world. A fresh, contemporary take on the day-to-day lunacy that is a millennial-syndrome.
Main picture: © Erin de Swardt
Having collaborated with industry heavyweights, ranging from PHFat to Ryan Murgatroyd and more, along with her background in electronic music production, forming one part a part of dream-pop duo Floors, collaborating with Shimza felt like the perfect fit.
You
WODJ MAG: Hi Mikhaela, how are you?
Mikhaela: Hi there! Doing pretty well under the circumstances (you know, the world ending and all), thanks
To those of our readers who don't yet know you, can you introduce yourself?
My name is Mikhaela Faye, I am a 20 something year old musician from Cape Town, South Africa. I sing, I play and I produce.
What is your style?
I never know how to answer this question! I guess one could say alt pop with electronica and jazz influence.
What is your relationship with music? How did you get into it?
So I played classical piano as a kid, then flute and piano in high school. I always loved to sing but my mom wanted to wait for my voice to fully develop before receiving training. I always liked jazz and was offered a position at UCT to study Jazz Composition and Arrangement majoring in voice. I finished my degree and then got really into production.
How did you come to produce music?
I started producing electronica with a friend Greg Abrahams from college. He pretty much taught me everything I know about production, and we formed an electronica duo, Floors. I learned so much during the years that we worked together in the studio.
Which track defines you best?
At this stage in my life, probably my song 'Compulsion' just because it's so close to the bone. The lyrics in that song are as honest as they could possibly be, it's stripped back and raw and vulnerable. I love that kind of thing.
Your country
You're from South Africa, Cape Town, how is the electronic scene going there?
Um, nothing is really going here at the moment. We were struggling pre-lockdown and now that Covid has hit, live venues and the vibe in Cape Town is almost non-existent. We really struggle with venues here, which is so sad. Cape Town really is one of the most beautiful cities in the world, blooming with talent and opportunity but due to our economic situation and I believe, a general lack of value and interest in the arts, our live electronic scene is close to extinct.
Are there any female DJs representing this musical movement in your country? Which ones can you introduce us to?
Yeah! Look, they're few and far between at this stage which is an entirely different discussion that needs to be had but to name a few: Kay Faith, Rose Bonica, Tzara- go check them out!
Your Debut EP and Feat.
Tell us a little about your debut 'Not Now. Later' EP?
So! 'Not. Now. Later' is my debut solo EP. It's about never feeling like you have your shit together – like I'm talking dirty dishes, no deodorant, 'I just ran out of gas on the highway' and I'm 2 hours late for my friend's wedding kind of adulting stuff. It feels like all my friends who in commerce are starting to apply for home loans and make babies and I'm still trying to find matching socks and underwear that's clean to wear in a draw full of forgotten responsibilities. I often like to describe it as such: 'This EP represents a screenshot of my life on someone else's phone'.
Your last single 'Breathe Into My Blue' is a delicious song. Do you have some words about the story behind it?
Yeah, this song is really close to me- I think it's my most vulnerable offering yet. It's about the desire to be intimate with someone that you feel safe with. This is something that I really struggle with- it takes so much trust to relinquish physical and emotional control. The sentiment of 'Breathe Into My Blue' is all about breathing into that vulnerable space and allowing for yourself to be held in that space, even if just for a moment.
You have collaborated as a singer, with the talented DJ, Shimza, on his upcoming 'Calling Out Your Name' EP, which will be released on November 6th 2020, on the new Shimza imprint, Kunye. Can you tell us how this project came about?
So his manager sent me the beat and to be perfectly honest, at the time, I had no idea who Shimza was (!!). I just really liked the beat and I only collab on house beats that I really dig and this was one of them. The Amazon was burning at the time so I wrote about it and how due to capitalist greed, we're royally fucking up the planet. Only after I wrote it, did I do a quick google search and made the realization that the guy I was collaboratinging with was in fact Shimza the DJ and not just someone with the same stage name. I can really live under a rock sometimes.
How was it to collaborate on the title track?
Collaborating virtually is really wild. We would have these virtual Ableton sessions and work through prod and arrangement together as a team which included producer, Kosta.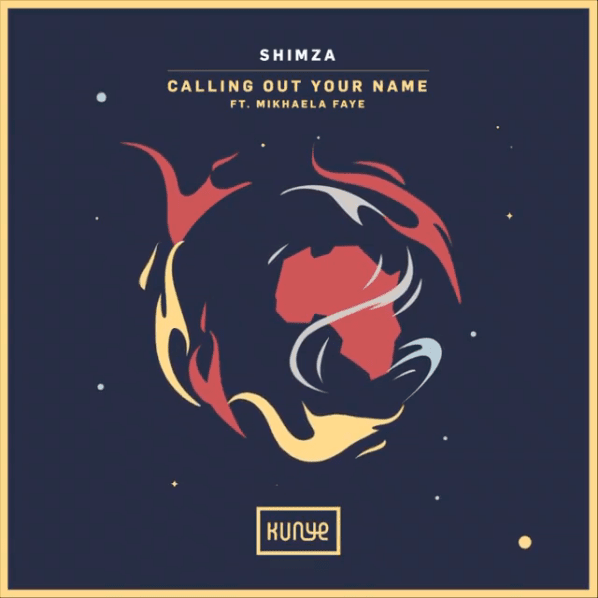 Listen to « Calling Out Your Name » by Shimza feat. Mikhaela Faye
With this year being one of the most difficult years, what direction do you see the music scene going in when we can't go out anymore?
Well streaming is the new normal and has been for some time. The whole virtual live stream thing didn't go down all that well in SA because our Internet is so bad here. I really don't know to be honest. At this stage, we're all just trying to find other work to keep us afloat- I currently have 6 part-time jobs which range from lecturing at the University of Cape Town to doing odd session work on Fiverr. It really is a do-or-die situation.
Music on Lockdown
Do you think about viable alternatives for artists? Have you discovered any that you've been able to implement in your career?
Fiverr has been a huge help during Covid. Sound better is also good but highly competitive and difficult to start moving initially. Um, I really feel that the more multi-faceted you are, the higher the chance you have of surviving in this crazy world. From writing piano for a series to doing session vocal on pitches to producing and collaborating with other artists, to teaching – you gotta mix it up. None of us can rely on live shows at the moment. I'm fortunate enough to be in a position of having established these relationships pre Covid and so now I'm just trying to draw from the resources and connections that I have.
More specifically, what is your point of view about streaming for parties and festivals?
Yeah, I really don't know hey. It's not really my thing and I know I should be more positive about this but I think people want visceral, authentic experiences. I've played some streaming shows and they have all been 'OK'. Unless you have a big budget, the juice doesn't feel worth the squeeze. We are also currently in 'level 1' of our lockdown which means that people can pretty much do whatever they please- not to say that they should! A second wave is imminent- we are seeing the trend globally and yet, people here are sick and tired of it and just want to do what they want to do when they want to do it. It's really sad and the reality is, our economy cannot handle another hard lockdown. People are dying of hunger as well as Covid.
More about you
When everything is over, where would you like to play at least once in your life?
I want to do a European tour. Go and play in Amsterdam and Berlin and London and Barcelona- pretty much all my favorite European cities!
Your top 5 best tracks?
Hmm just off the top of my head:
01. 'Love it if we made it'- The 1975
02. 'P.Y.T.' – Michael Jackson
03. 'Pools to Bathe In' – The Japanese House
04. 'Liability' – Lorde
05. 'Are you even real' – James Blake
What is your biggest dream and how do you want to achieve it?
I want to earn a living off making my own music and collaborating with musicians and visual artists that inspire me. I'd like to live somewhere else for a bit too- somewhere where I could build a listening audience. My musical style doesn't really have a place here and that's okay.
Official website
Facebook
Instagram
Twitter
YouTube
SoundCloud
Resident Advisor