Shay De Castro, grew up in the United States, living in some of the best cities for techno music. Playing the guitar and listening to grunge rock since she was a child had a huge influence on her sound today, always making sure to have that enigmatic ingredient thrown into the mix. However, it was during her time in the culture-rich Los Angeles, California and Guadalajara, Mexico that took her productions to the next level, mixing her booming, driving aesthetic with deep, ominous melodies. Perhaps it was the mariachi, or maybe the tequila. Whatever it is, it seems to be working.

With the sheer oversaturation of DJs and producers today, it's rare to see a new artist who is something unique. Shay De Castro isn't just a breath of fresh air, but rather one of those gusts of wind that knocks you of your feet. Once she steps up to the booth, be prepared for an unexpected journey ranging from hard-hiting techno to trance-like melodies.

Shay De Castro makes her label debut on Spektre's Respekt Recordings, with 'Intricacies & Realities', set for release on November 6th. The trailblazing techno talent has seen serious success in spite of a rather bleak 2020, gracing an array of esteemed imprints from Veerus' Le Club to Spartaque's CODEX Recordings.

WODJ MAG: Hi Shay, how are you?
Shay De Castro: I'm doing pretty well, all things considered!
First of all, could you introduce yourself to people who don't know you yet
Sure, I'm Shay De Castro – a techno artist based out of Los Angeles, USA. My music is signed on labels like Respekt Recordings and Codex, amongst others. I like to merge the more mainstream with the underground.
How could you define your style?
I'd say driving, dark, and even a bit gritty.
What made you get into music?
I can't really remember a time when I was ever not passionate about music. My mom was a singer and married a drummer, and band practice was in our garage. I really started getting into it when I taught myself to play guitar when I was 10, and a few years later I discovered electronic music and that became my obsession since then.
What music would best define you?
I don't even know if I could answer that. There's something in almost every genre of music I've listened to that I like. From mariachi to death metal, I like it all. If not techno or trance though, I used to listen to the Nirvana box set religiously as a kid and I think I know how to play every one of those songs on the guitar haha. That would come as close as possible to defining me.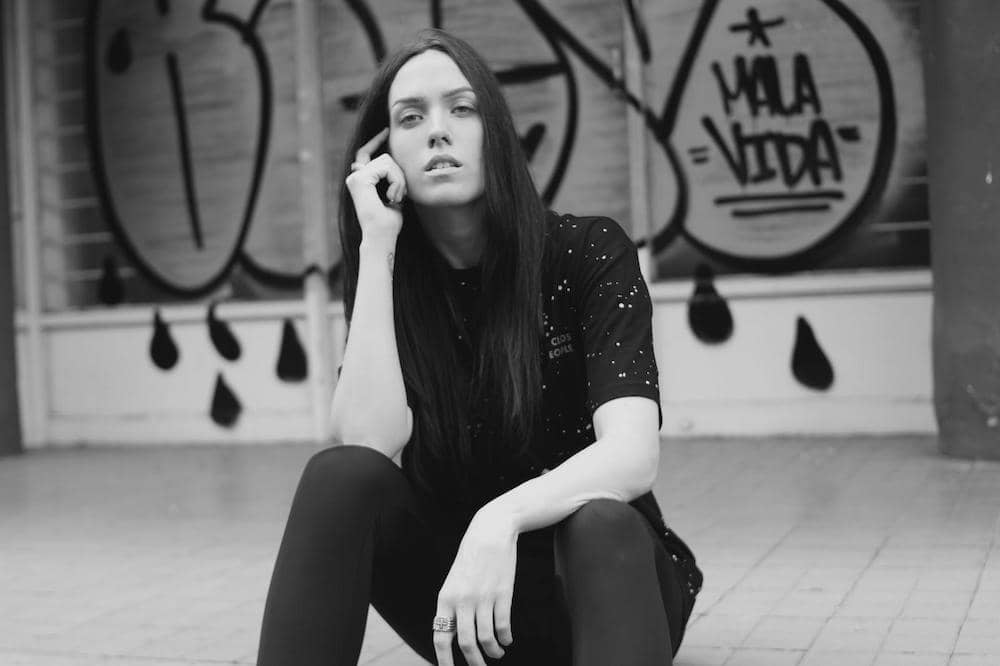 You currently live in Los Angeles. How is it going in terms of music?
It's a weird time! There are events happening, and then there aren't. It's hard to keep up with. In a city filled with so many musicians, music producers, etc. it's a very frustrating time in terms of performing and connecting with others in that regard.
Compared to Mexico City, how do you compare these two scenes in terms of music, location, public, party?
Hmm, you know I don't personally think Mexico City is the best city in Mexico for partying. I have always found the smaller cities to be much more passionate. Like if I were going to compare most small cities in Mexico to LA, I'd say they are really there to party and enjoy the music whereas in LA you often see people just there to be seen. Mexicans are on another level with enjoying life, and that's transmitted at these parties. LA has some awesome venues, I can't deny that. But for an unforgettable vibe and crowd, you have to go to Mexico.
You released 'September In Boise' EP [Le Club] in October 2020 and you are back with a new techno track called 'Intricacies & Realities' via Spektre's Respekt Recordings. Can you present your work to us?
Yeah, so September in Boise was a bit more emotional for me. I think that came directly from the lack of inspiration from playing at clubs and what replaced it was inspiration from the other parts of my life. Orwellian Future has a trance-inspired arp that over time becomes more and more intense, and I had a lot of fun with it. Intricacies & Realities definitely goes harder and is personally one of my own favorite tracks. Very ethereal melodies mixed with the more abrupt synths punctuating it throughout the track. That one, I'm really looking forward to playing on a big system.

Purchase Shay De Castro 'Intricacies & Realities' [RESPEKT]
In the coming months, without a clear vision, will you continue to produce?
I sure hope so! Live 11 is coming out in a couple of months I believe, so I'd really like to upgrade and play around with it. I'm also planning on renovating my studio entirely, which I think will also help inspire me a bit more.
Where would you most like to play in the world, where?
My number on « bucketlist » city to play in is Paris. Every time I'm booked in Europe, I always miss Paris and that is one city that evokes emotions I've never found anywhere else I've been.
Your Top 5 best tracks?
Idk if I could pick just 5 all-time favorite tracks, but here are my current 5 favorites:
01. Viper Diva – Born to Be Slytherin
02. Luca Morris & Mozzy Rekorder – Dust
03. Jurgen Degener – Sleeping with the Ghost
04. anything by Chemtrailz
05. Shlømo – Dodge This
That's a life-changing track!
What is your biggest dream and how do you want to achieve it?
I think I haven't even realized my biggest dream yet, but for right now, I want to travel the world, be with those I care about, and play music at least every weekend to packed venues!



Official website
Facebook
Instagram
Twitter
SoundCloud
Resident Advisor