lau.ra is the project from producer, DJ and vocalist Laura Bettinson aka independent alt-pop artist FEMME! Also 1/3rd of Ultraísta with Radiohead producer Nigel Godrich, Laura now turns her attention to electronic music, dancing deeper into her role as producer and DJ with her debut release 'Sideways' dropping Needwant earlier this year. She returns on Needwant this June 24th alongside vocalist Nova, delivering their joint single 'Get Creative', backed by a stellar remix from Bristol-based duo Cousn.
This latest single see lau.ra join forces with East London singer-songwriter Nova, also known as Nova Newland, a performer with a distinctive, gender defying voice who featured on Laura's 2018 FEMME record 'Be Shy' and who has a string of exciting projects lined up for 2020. Their latest musical pairing, 'Get Creative' is a bass driven, twisted electronic workout, that is part alternative pop, part dark, bass house offering and is another surefire dancefloor winner.
The original is complimented by a brilliant remix from rising stars Cousn who deliver an inventive reworking fuelled by a classic breakbeat rhythm track and featuring a slowed down mid section that is sure to get listeners into a lather. This is another gem from lau.ra that is certain to further cement her position as one of 2020's crossover stars.
Image mise en avant : © Alexander Elizarov
You
WODJ MAG: First, could you present yourself to people who don't know you yet?
lau.ra: My name's Laura Bettinson, I'm a producer, vocalist and DJ based in South London.
How do you define your style?
I make mostly energetic, wonky, wobbly, bassey, house music. I consciously produce music trying to use as few elements as possible, I like to make banging tunes that aren't overcrowded. I'm also a sucker for a catchy vocal hook or sample so you'll find a lot of those scattered among my work.
You live in London, how do you spend your time in the city for both work & play? And how has it been for you over the last few months with everything locked down?
I've lived in London for many years now, I moved here from the Midlands when I was 18 years old. I'm still not bored with it yet so that's got to be a good sign. London during lockdown has obviously not been the same, without the people and places open it loses its buzz quite quickly but I must admit I've enjoyed a taste of a slower pace of life. I think we all needed to take a step back, breathe and realize we can still get shit done without working constantly at a flat out frantic speed. I've gotten quite used to the quiet weekends but I can't wait to see some friends and be able to book some trips away.
What has music meant to you during this unusual time?
I actually haven't listened to a lot of music because I've been making so much of my own. I'm lucky that my studio is in my house so it's been a fairly productive time for me and unusual to have such a long stretch of undisturbed time to concentrate on creating. It's kept me focussed and motivated. Although some weeks have been more fruitful than others.
What's the song that would define you the most and why?
In many ways the song that defines me most is the Four Tet remix of the song 'Small Talk' by Ultraísta that I sing on. That remix opened a lot of doors for me and was really my introduction into dance and electronic music. After it was released I realized that my voice could be quite strong and unique in that space and it led to many more successful collaborations for me. Four Tet is also a huge inspiration in terms of artistry, career and approach to production so to have him work on a song that we'd made was pretty thrilling.
So you are a member of Ultraista as well, could you tell us about this project?
Ultraísta is a three-piece band composed of myself, Nigel Godrich (Radiohead producer) and drummer Joey Waronker. We make strange, immersive, surreal alternative music that isn't quite electronic, but isn't quite indie. We straddle many different genres and influences but the result is a sound that is wholly our own. We've released two albums to date, the second one just came out on Partisan Records and it's called Sister.
Your New Release
You have a new release 'Get Creative' with Nova coming on Needwant on 12th June. Could you tell us about your new bomb and introduce us to Nova?
'Get Creative' is a twisted housey bassey banger packed full of punch and energy. Nova approached me with the bare bones of this song a while back and together we worked on it to get it to where it is now. He brought the hooks and I brought the beats and wobble. Nova has this incredible gender defying voice anyway but as soon as we recorded the vocal I pitched it up an octave the song became this sort of deranged duet with himself. It's a loud, proud, queer anthem.
'Get Creative' could be seen as a strong direction for our society? Is it a message?
Honestly the song is about casual sex.
Cousn remix 'Get Creative' and give a different kind of groove. How did you feel about this rework when you first heard it?
There's nothing I hate more than a bland, beige remix. This is not a bland, beige remix. Cousn have made something totally off the hook and unexpected, so I instantly fell in love with it.
More about You
Where is the place you would love to play your song as the last track of the night?
I feel like this song would go off as the closer down in the basement of Dalston Superstore. Or an iconic gay club in NYC. People voguing and hooking up everywhere. It would be kind of perfect wouldn't it really. Let's hope we all get to go out again soon.
Your top 5 favorite tracks, to give us an insight in your musical tastes?
All Night Long – Mary Jane Girls (Ardalan Edit)
Don't Go – Justin Martin
Essence – Cassius Select
I'm Not Dancing – Tirzah, Micachu
Baby I Need Your Loving – The Four Tops
What's your biggest dream and how do you go about achieving it?
Play more! Make more! Learn more! Earn more! Every year I feel like a stronger version of myself. I hope that I can inspire some young women to enter the music industry as music producers. Growing up in a small town in the middle of England I wasn't even aware of technical roles in the music industry. The only women I saw in music were pop stars, so I naturally entered the music industry as an artist and it wasn't until I was frustrated with the creative 'co-writing' process in pop music that I started to teach myself music production. I didn't want to wait around for someone to fit me into his schedule to enable me to create stuff and get shit done. I've never looked back. I feel like I'm right where I need to be but I remain open to all and any adventures.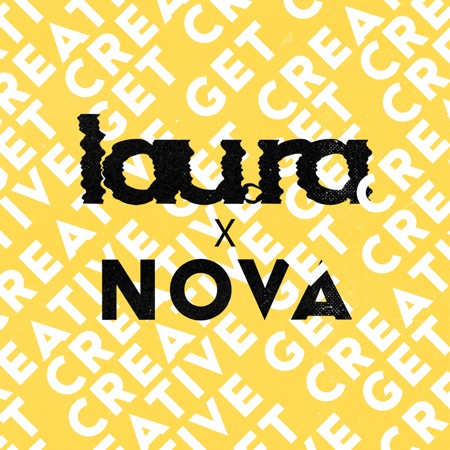 'Get Creative' EP [Needwant] by lau.ra feat. Nova is out on 12th June, 2020.
Tracklist:
01. Get Creative
02. Get Creative (Cousn Remix)



Official Website
Facebook
Instagram
Twitter
SoundCloud
Mixcloud
Resident Advisor